Meer impact met serious games!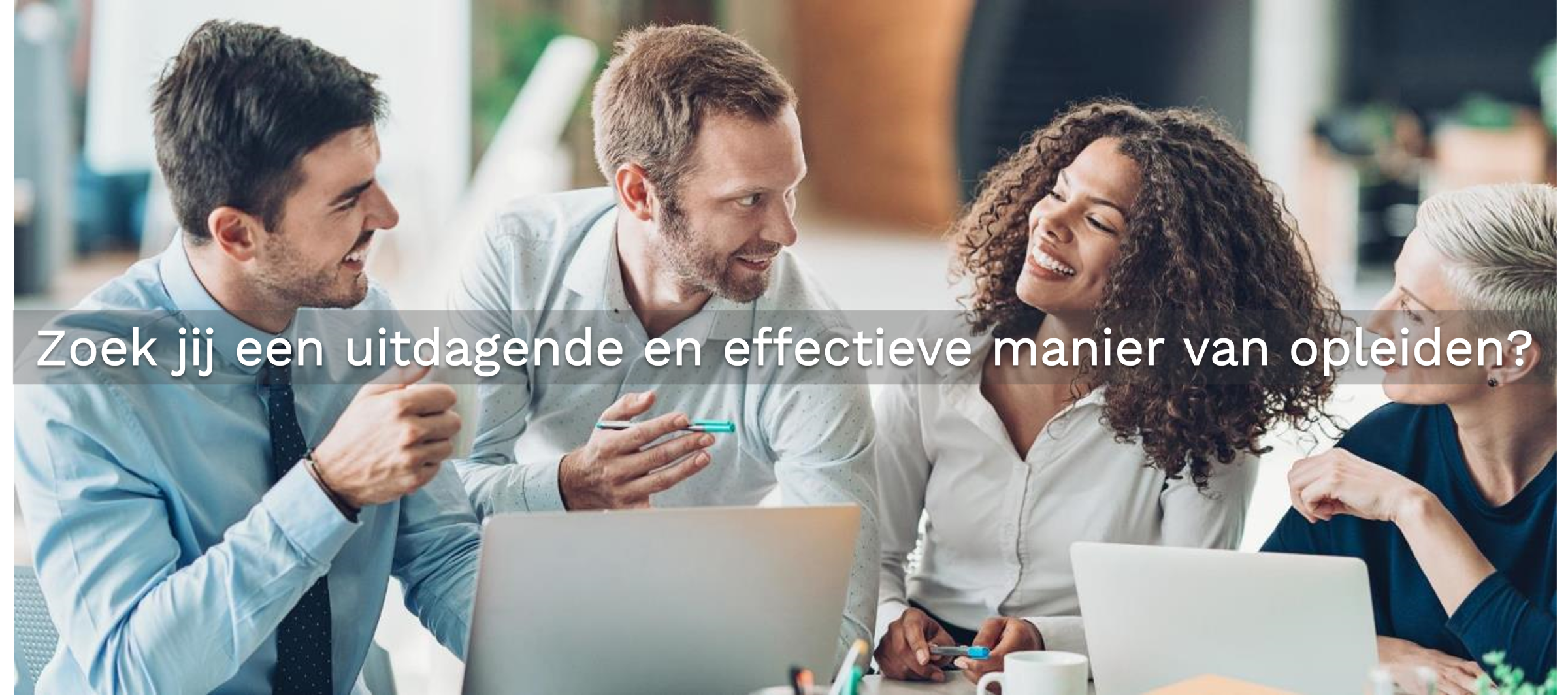 Ben jij verantwoordelijk voor het opleiden van professionals en zoek je naar een actieve trainingsvorm met impact? Opleiding en ontwikkeling van medewerkers is cruciaal in een bedrijfsomgeving die alsmaar complexer en dynamischer wordt. Helaas wordt er te vaak veel geld en tijd geïnvesteerd in opleidingsprogramma's die niet uitdagend zijn en waarvan de inhoud niet beklijft.
Voor (young) management development en teambuilding events is nextOne onze meest succesvolle serious game die al voor meer dan 15.000 business professionals wereldwijd is ingezet. In de game vormen de deelnemers het nieuwe managementteam van de smartphone producent nextOne, een internationaal high tech bedrijf met tegenvallende resultaten. De teams strijden onderling tegen elkaar en zijn verantwoordelijk voor strategische, tactische en operationele beslissingen op het gebied van Marketing & Sales, R&D, Supply Chain Management, Finance en HRM.
Benieuwd of nextOne kan bijdragen aan het bereiken van jouw leerdoelen?
Plan nu een kennismakingsgesprek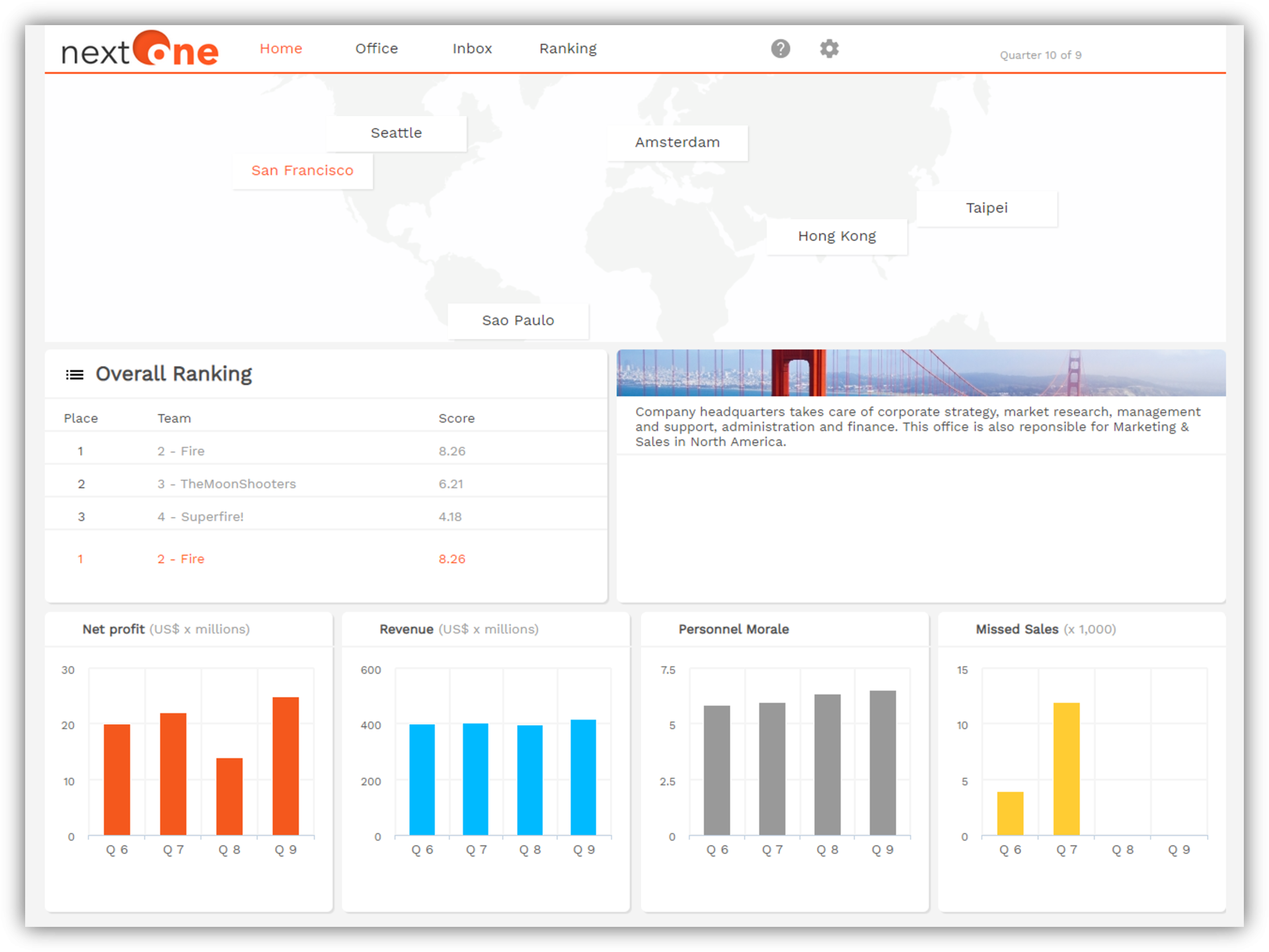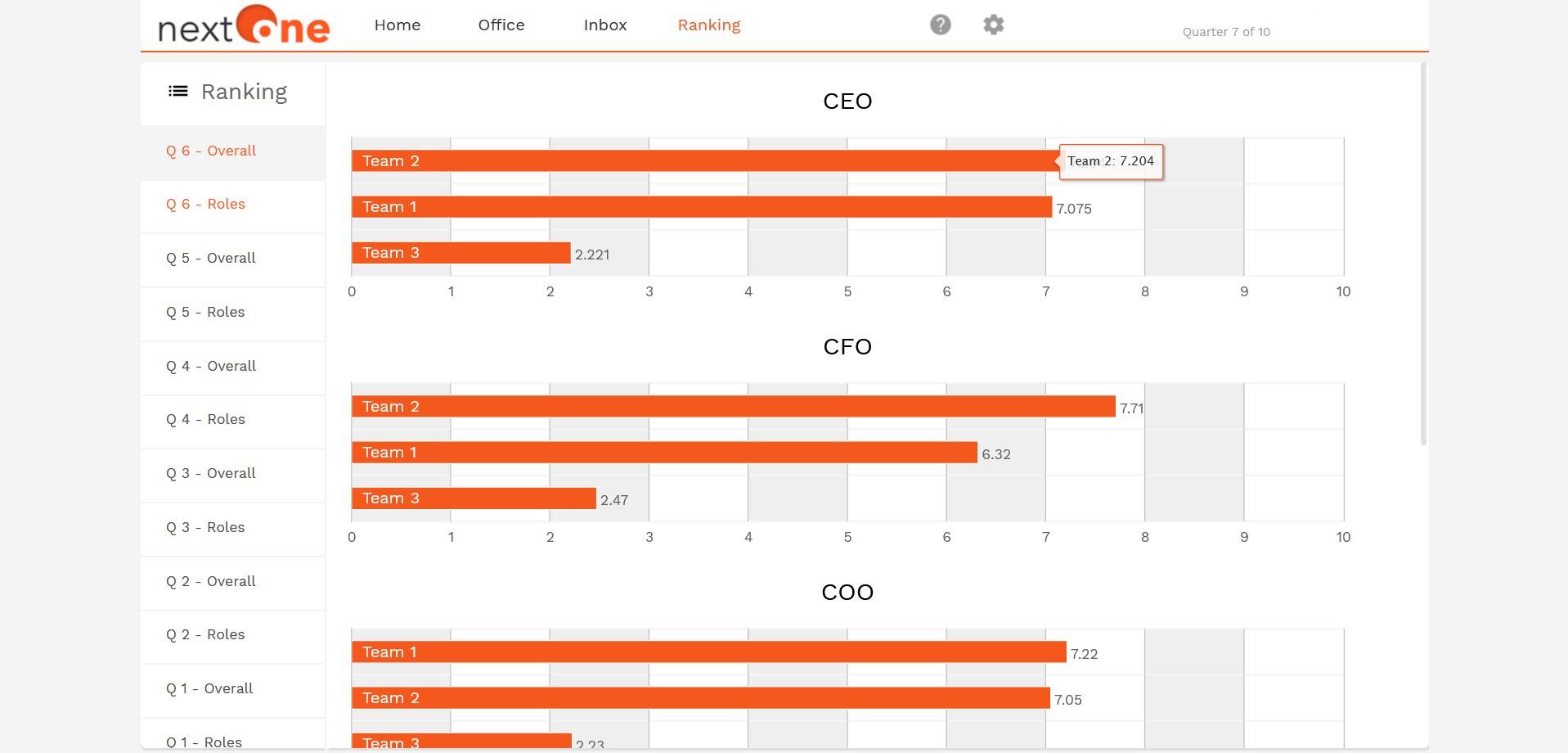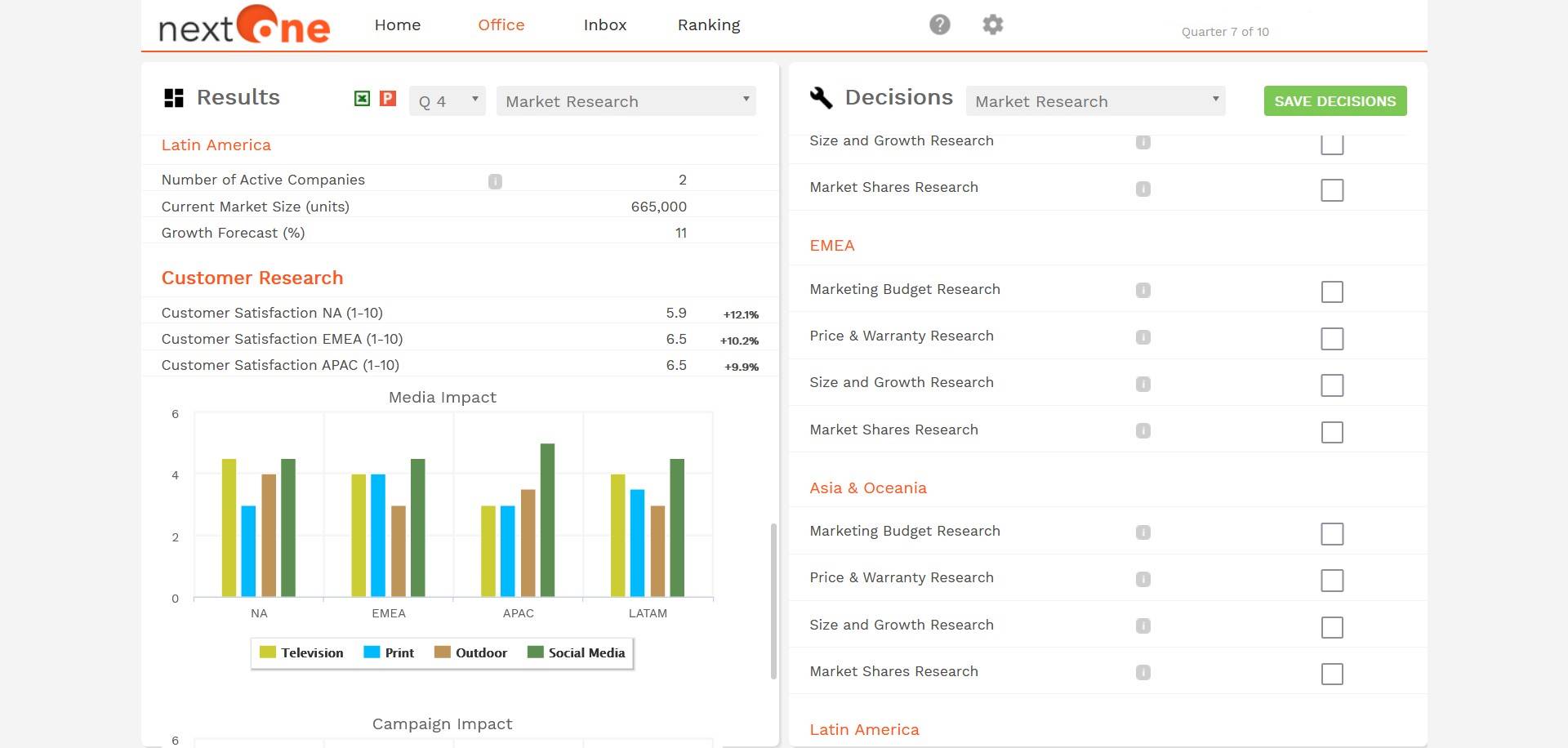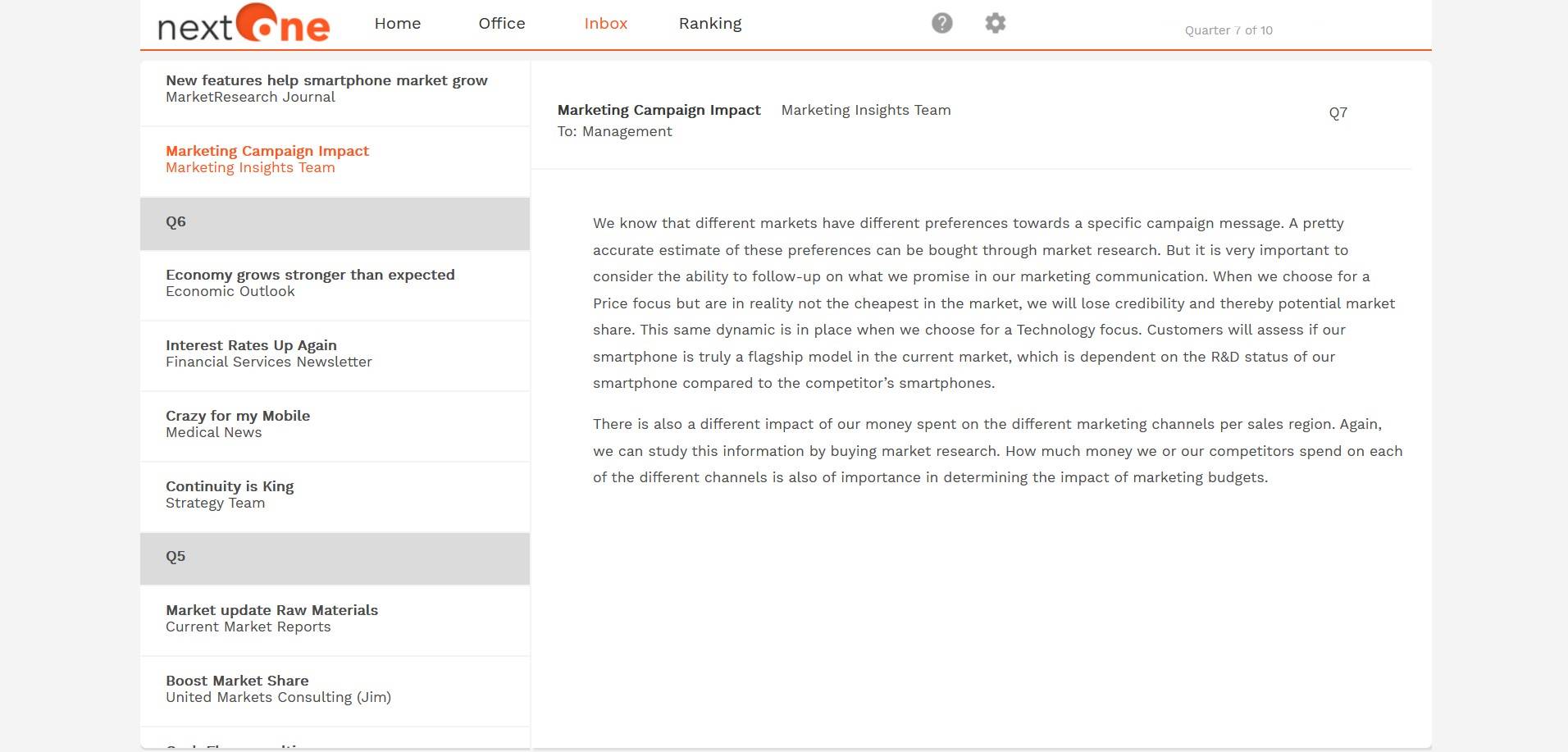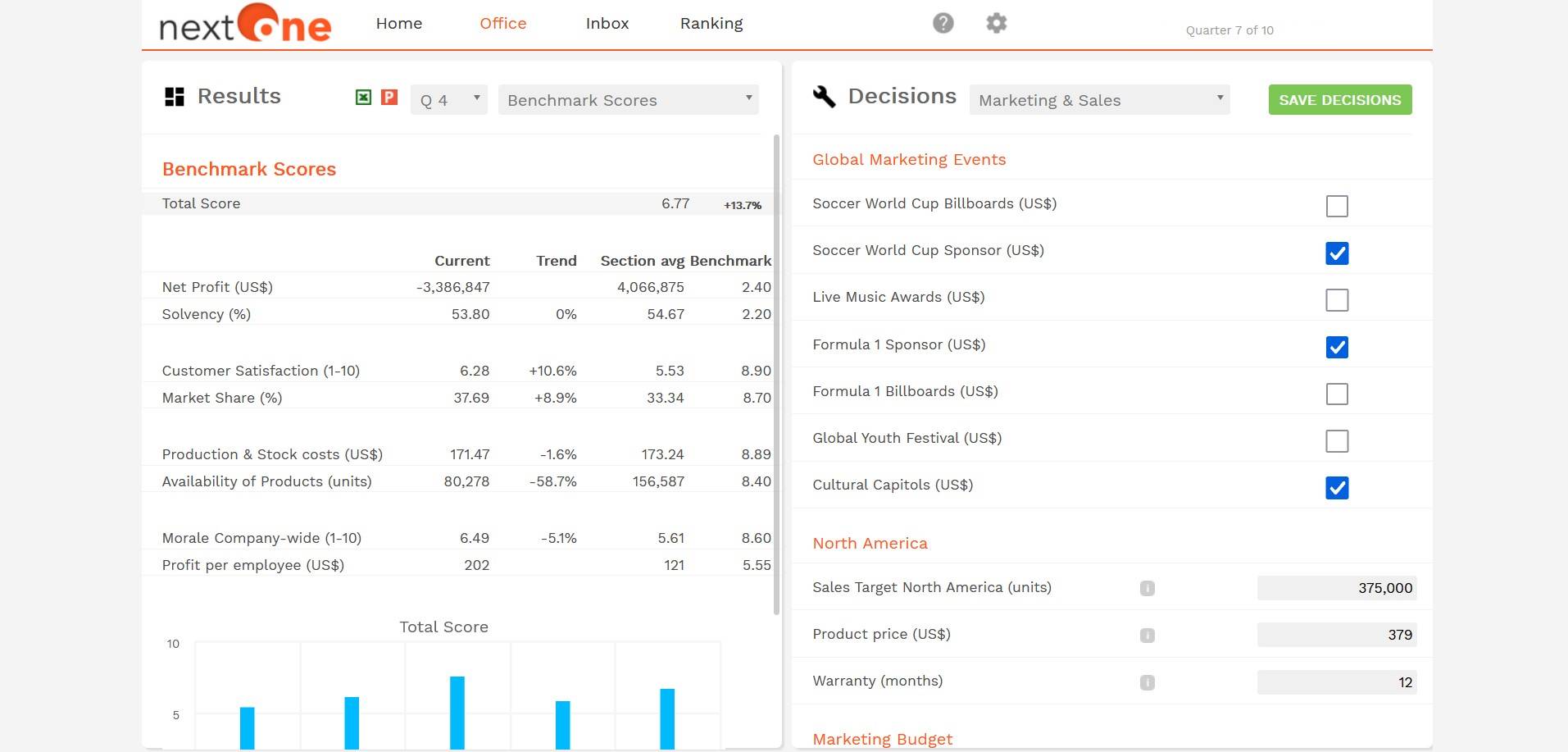 Wat zijn de leerdoelen en voordelen van nextOne?
nextOne past uitstekend in de actuele ontwikkeling naar actieve opleidingsvormen waarbij leren en praktijk dicht bij elkaar worden gebracht. Deelnemers kunnen oefenen, experimenteren en leren in een zeer uitdagende virtuele bedrijfsomgeving. De leerdoelen van het spel:
Samenwerking. Begrip van het belang van teamwork voor effectieve besluitvorming.
Leiderschap. Verantwoordelijkheid voor de eigen managementrol en het presteren van het gehele team.
Business management. Inzicht in de onderlinge afhankelijkheid van de verschillende management disciplines.
Business strategy. Het nemen van tactische en strategische beslissingen in een dynamische competitieve omgeving.
Waarom gebruiken steeds meer bedrijven en trainingsbureaus nextOne in hun opleidingsprogramma's?
Uitdagend team-tegen-team format
Veilige leeromgeving waarin learning by doing centraal staat
Vergroot inzicht in essentiële bedrijfsproblemen en dynamieken
Zowel online als offline te gebruiken
Geschikt voor langlopende opleidingstrajecten en 1-daagse events
Wie gingen jou voor?
Duizenden professionals, van junior tot senior, in binnen en buitenland. Het resultaat? Engagement en impact bij alle deelnemers. Deze organisaties gingen jou voor:
Enthousiast geworden en benieuwd wat de inzet van nextOne zou kosten voor jouw opleidingsprogramma of event?
Plan nu een kennismakingsgesprek
Wie is Simenco?
De mensen zijn er klaar voor, de technologie en Simenco ook. Nu jij nog! Wij zijn sinds 1994 dé specialist in innovatieve simulaties en games voor opleiding en onderwijs. Wij ontwikkelen games voor zowel grote als kleine bedrijven in binnen- en buitenland. Leren en presteren wordt door onze serious games niet alleen efficiënter en effectiever, maar ook nog eens veel leuker!
Wil jij weten wat serious gamen voor jouw organisatie kan betekenen? Plan dan nu een online kennismakingsgesprek in.
Kennis maken?